BOB GNOZA AWARD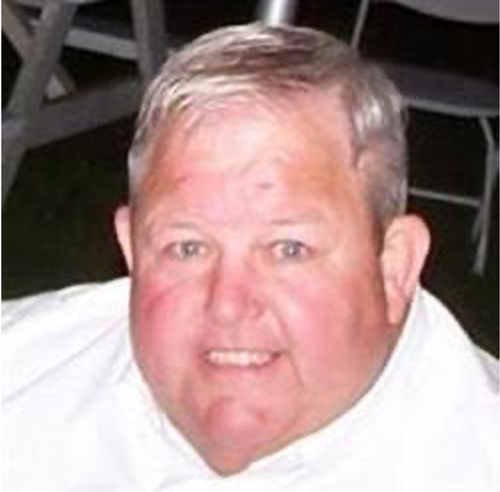 Bob Gnoza was the former Commissioner of the Cape Ann Youth Football League and served more than 20 years as a coach, board member, and President of Masconomet Youth Football.  Bob was one of the most progressive CAYFL Commissioners in the league's history, actively looking to expand the league and advocating various rule changes to improve competition and safety.  He was well respected by coaches and officials throughout the league, and loved by the hundreds of youth players he coached throughout his career.  In 2008, he received the highest honor of any coach in league history as he was named Massachusetts Youth Coach of the Year by the Massachusetts High School Football Coaches Association.
Bob passed away in July, 2014 at the age of 63, but his legacy lives on in the Cape Ann Youth Football League.  To honor his spirit and commitment to youth sports, the CAYFL is proud to present the Bob Gnoza Award annually to a deserving 8th grade player who best exemplifies the principles Bob stood for – dedication, courage, discipline, teamwork, and sportsmanship.
Each year, one 8th grader will be nominated by each CAYFL program.  The head coach of the A (or JVA) team should submit a short bio of the nominated player and discuss his qualifications for the award considering:
* Leadership qualities.
* Teamwork and team spirit.
* Dealing with adversity.
* Respect and sportsmanship.
* Dedication and commitment to team.
* Academics and citizenship.
* Other admirable qualities.
All nominees will be reviewed and voted upon by the Commissioners and head coaches of each program (one vote each and must be for a nominee from another town).  The winner will be announced at the annual CAYFL All Star Banquet.

Lynnfield                  2022 Award Winner
Chloe Bergeron
I am honored to nominate Chloe Bergeron for the Bob Gnoza award.  Chloe has participated in tackle football since third grade, and I have coached this terrific athlete ever since.  She is a two-way starter and perennial captain; her leadership and athletic ability has been evident since she put on a uniform.  The playing field in elementary school is pretty level from a gender perspective, and her parents were supportive of her love of the game.  However, as the kids started to get bigger, her parents began to worry about her safety.  In all honesty, most females would struggle to compete around 7th grade as the competition grows and gets stronger.  Her parents had some hesitation as she continued with her football development and the thought was that her parents would not allow her to play after C Team.  Chloe lobbied her parents to allow her to continue to play and proved that she could compete strongly.  I was hoping to get one more year but assumed that B team would be her grand finale.  As a B team player, competing against many teams with 7th and 8th graders, she was probably our best all-around player.  The coaching staff recognized her many accomplishments at our banquet end of year banquet last season, and I was happy to have had the chance to coach her.
No one was more surprised than I when I saw her name registered for this A team season.  I spoke with her parents, and they said she would complete in the preseason, but they would keep an eye on her and would potentially remove her from the team at the first sign of a safety concern.  As start to wind down this season, she remains a top performer, leader and terrific teammate.  During tackling drills, we often must watch who gets matched up against her.  That is not for her safety, it is for theirs.  She has taken a lot of on field jibing from opposing teams throughout the years and has endured her fair share of scrutiny.  Football is a male dominant sport, and Chloe has proven that through tremendous hard work, and dedication it is possible to not only compete with the boys, but that girls can excel in the sport
She is an all-star softball player, currently playing on a U18 club softball team with high school juniors and seniors. She also plays basketball, field hockey and lacrosse at very high levels.  With all these activities, she still finds time to excel at school, and is an honor roll student.  She is a terrific young woman who dedicates herself to her family, friends, and community.  I can't think of a player that better embodies the spirit and principles of the Bob Gnoza award.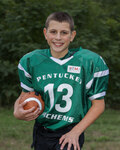 Pentucket
Connor Price
The player that I am nominating for the Bob Gnoza Award this year is Connor Price.  Connor Price isn't your typical football player.  He's not a big lineman, or a fast wideout, or a shifty back.  Honestly, to look at him you wouldn't know that he plays football.  But he does, and he does so with a passion that I wish all my players had.  Whatever position I ask him to play, he gives it 100% and doesn't complain.  He patiently awaits his turn on the field, and instead of taking that time to chit chat or goof off, he doesn't.  He cheers his teammates on and lives every play as if he were on the field.  He shows up early for practice, a positive attitude, ready to go, and ready to challenge his teammates to make them better.  It's hard work and dedication to the team that is what football is really all about.  He's part of our family and has been since 2017 when he entered the league as a 3rd grader on D team.  He's never complained about playing time or getting the ball.  He plays his role, and he does so to the best of his ability.  He is a coach's best case scenario in every way.
In addition to his contributions on the field, Connor is active in the school system.  He is an Honor Roll student and participates on Student Council.  He most recently, was nominated as one of three Pentucket Ambassadors for Project 351, which incorporates 351 Massachusetts' communities in an effort to develop the next generation of community service leaders.  An accomplishment that Connor is extremely proud of.
In his spare time, Connor enjoys working on his guitar playing skills, as well as rooting on his younger brother, Colin, as his team games/events.  Connor is a staple in our baseball snack shack, where he can be seen handing out slushes and pretzels all Spring and Summer long!
We are very proud to have Connor as part of our Pentucket Football family and are confident that we've made the right choice for our nomination for this Award.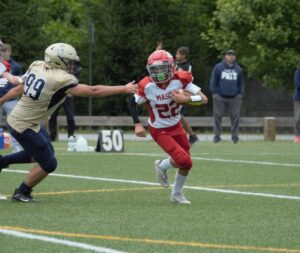 Masco
Dylan Pelletier
It is with great pleasure that the Masconomet Youth Football Program nominates Dylan Pelletier for the 2022 Bob Gnoza Award.  Dylan has an unmatched passion for football.  He will play any position on the field and do so with enthusiasm.  He brings 100% effort to everything he does and what's more he is able to get other players around him to do the same.  Mid season, Dylan broke his hand.  It was casted and he was back on the field the next day.  He has played half of this season with his hand in a cast which forced him to change positions but he has continued to contribute without complaint.  He is a strong but supportive leader; always putting the goals of the team above his own.  He brings the highest level of sportsmanship to every game and practice.  He competes fiercely, but is also the first person to pick an opposing player up off the turf or congratulate them on a great play.  Dylan understands what it takes to be a beneficial part of his community.  He helps set up the fields for games, stays after and cleans the fields, puts away equipment and will do whatever needs to be done to be helpful.  Dylan is also an honor roll student, a 3 sport athlete and member of the school chorus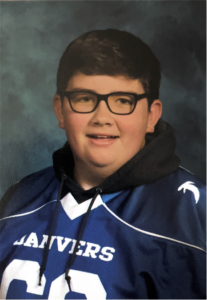 Danvers
Jacob McLaughlin
As the 2021 football season end, I began to think of the 2022 8 th grade football season and what was in
in store for me: what was the 8 th grade team going to look like, what offense and defense were we
going to implement, how do I get 7 th two teams to become one during their 8 th grade season. It was
during a Danvers Youth Football Board meeting, where I heard the league President remind the current
coach of the 2021 8 th grade team, that a nomination was needed from him for the Bob Gnoza Award.
The President of the league passionately spoke about Bob's characteristics and his dedication to the
Cape Ann League. After hearing about Bob and knowing that the following year I would need to make
that nomination, and without hesitation the name that came to mine was Jacob McLaughlin.
As the 2022 season was winding down, I received the reminder that this 8 th grade team would need their
nomination for the Bob Gnoza Award, without hesitation when mentioning the characteristics of this
award, my coaching staff, came to the same conclusion I did when the award was mentioned to me.
Jacob McLaughlin was the unanimous choice. Jacob has been part of Danvers Youth Football for six
years. During those six years Jacob has been the anchor of the offensive line, everyday he comes to
practice and game day with that "lunch pail" mentality.
You always find Jacob to be the first player arriving practice and also the last to leave one. He takes
advantage of this time to either work with the quarterbacks on perfecting the shotgun or under center
snaps. And if he is not working on the snaps, he will be the one assisting the coaching staff picking up
the left-over plastic bottle and trash left after practices and games. With each change Jacob's
confidence and leadership qualities have grown whether it was threw leading the team through
calisthenics, assisting his follow lineman in the forthcoming blocking assignment, along with in game
ideas to help with blocking schemes. He is a quiet leader that leads through his example and a player his
teammates look up to and respects.
Jacob's leadership and dedication does not stop in assisting his teammates, Jacob at this young age finds
spending time family very important, whether it is family camping vacation in New Hampshire, going to
a sister's field hockey game or another sister's dance recital or spending time with his grandparent. He
is also more then willing to assist those family members that might need assistance in chores around the
home. just like he is there for his teammate's week in and week out. As most kids at this age want to
spend less time with there Dad's, Jacob seized the opportunity to spend more time with his dad, by
purchasing a small fishing boat from the proceeds of his small landscaping business. His great
grandmother calls him a "treasure", and having coached Jacob over the last five years I see what she
means.
Jacob may not have all the physical attributes a great athlete, but has many of the qualities you want to
see from the youth of today, big heart, dedication and respect from family and friends, and the
understanding that no matter life throws at you, you can overcome it through hard-work and
confidence in yourself. These characteristics will not only assist Jacob in his goal to attend Essex Tech,
but also in life.
I write about Jacob as a proud coach: his dedication, commitment, discipline, heart and teamwork make
him well respect among his teammates and peers.
Please consider Jacob for this prestigious award because he truly symbolizes what this award is all
about, I look forward to Jacob having continued success in high school in the classroom as well as the
athletic field.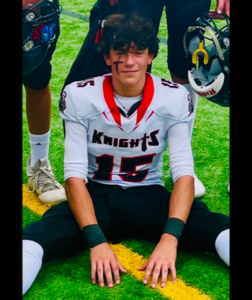 North Andover
William Gray
With this being the first year of having to coach this group of kids, I haven't had the opportunity, like many coaches, to be able to work with a group of kids over a 5-year period and be able to watch them grow.  But when I was asked to select a player that best exemplifies Bob Gnoza, a man that had dedicated a great amount of time to youth football, I wanted to take the time to reflect upon who that person should be and who best exemplifies a man of great stature.
That person that I have selected is one that may have not been blessed with "Gronk" like size and/or "Brady" like ability but one who has a massive heart, an even bigger smile, and a love for the game of Football that you just can't teach.
A person who finishes his conditioning and turns to find the one struggling and either cheers them on or runs over alongside that individual encouraging him until he finishes and ends with a big pat on the back.
A person who breaks their hand, is put in a cast and is back at practice the next day to help lead the team in their daily stretching routine because he wants to make sure that he doesn't let the team down.
A person who, win or lose, is the first one to congratulate his teammates and be the first in line to shake hands with the opposing team.
A person who goes out of his way to help a teammate or opponent up from the ground after being tackled.
A person who best resembles North Andover Booster Club whether it be on or off the field is William Gray.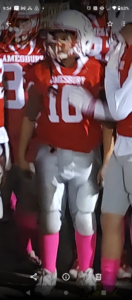 Amesbury
Mateus Paixao
Please see below for the Amesbury Jets nomination for the 2022 Bob Gnoza award.
Amesbury Jets Youth football is proud to nominate Mateus Paixao to represent his program and his community as the Bob Gnoza 2022 award candidate.    When working through which boxes to check for the student athlete that best represents the Northern Seacoast region, Mateus checks them all.
Raised in a single parent home, Mateus has found a way to play football every eligible year since he was in the 3rd grade.  A shy, undersized athlete when he began playing, Mateus grew into an undersized, yet fiercely confident competitor; and embodies what we as coaches espouse when we thunder the virtues of the game of football.  Mateus is now the commanding leader of his Jets peers; a confident, intelligent young man that sparks the very best in those he engages both on and off the field.
Aside from being a standout football player, Mateus is the consummate friend, peacemaker, and honor student in the classroom.  When not playing football, Mateus enjoys mastering culinary arts with his aunt and sharpening his musical chops in both piano and ukulele.
It's with honor that I nominate Mateus Paixao.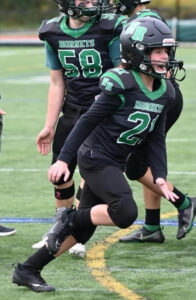 North Reading
Casey Allston
The North Reading A Team coaching staff would like to nominate Casey Allston for this year's Bob Gnoza Award.  Casey has been with the program since D Team and his passion and enthusiasm for football are unparalleled.  Over the past six years, we can't remember a practice that Casey did not attend, nor a practice where didn't give it his all.  He may not be the biggest or strongest player on the field, but his knowledge of the game is outstanding.  Casey listens to the coaches and is always looking to learn to become a better player.  He is always patient but also eager to play any position we ask and never complains.  As a matter of fact, he is always cheering on his teammates, providing encouragement and advice.  When on the field, he always gives it his all and is fully focused on the importance of the role he is playing.  Not only is Casey a great teammate, but also a great friend to his peers.  He will always support them though any tough times as though they were part of his family.  Casey has truly been an asset to our program each and every year.  We have been lucky to work with such a coachable player, who is also a great young man, on and off the field.  We are incredibly proud of him, and it is great honor to nominate Casey for this award.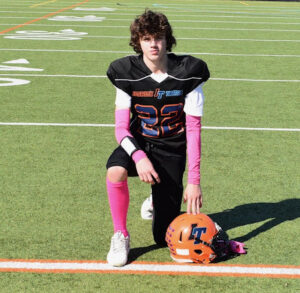 Ipswich Triton
Cole Smith
On behalf of the Ipswich Triton B team coaches, we are nominating Cole Smith for consideration of the Gnoza award.  With any football program there are always many kids who do well in school, help the community, and lead by example. We have dozens of those kids.  However, what sets them apart are the ones that must overcome true adversity.  I am not talking about the batteries going dead in the middle of Madden 23.  I am not talking about forgetting your homework.  I am talking about the kind of adversity where you are forced to grow up a little too soon, I am talking about the kind of adversity where you realize that life is hard and not fair.  Cole has had to overcome this type of adversity and still has been able to mature correctly as a young man.  He is being raised by his grandparents and is separated from his sister.  He is lucky to have his grandparents and his aunt's family as supportive extended family members.
He very quickly become a leader of our team at the start of the season and earned the team's vote as captain.  He is always heard encouraging his teammates and looking for them to be the best they can be both on and off the field.  Cole could very easily let his environment get the best of him and allow it to become an excuse to fall behind and not preform at his best.  He uses his situation to become better at everything he does and continuously performs at a high level, not just in football but in baseball and basketball as well.
When things don't go his way, he is always able to keep the correct mind frame.  He didn't make weight to run the ball this past weekend, effectively cutting his playing time in half.  However, like most leaders he used that at motivation.
It has been a pleasure to watch Cole grow through out the years.  Some of us have coached him since 8U Flag Football.  We have many student athletes that would represent our program well.  However, if this award is to recognize those 7 qualifications in the description; Cole Smith has earned it.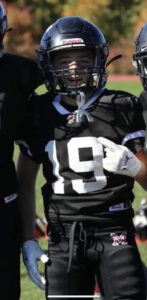 Marblehead
Oscar Gallante
In March of 2022, the Marblehead Youth Football community tragically lost one of our own. James Gallante was a young player who wore #19 at Marblehead High School. Losing James left a hole in the hearts of his team and our town, but no one experienced grief more than his family. His youngest brother, Oscar, has been part of Marblehead Youth Football for the last six years. This past season he returned to his team for their final year in youth, but football has evolved into far more than a sport to Oscar. It's become an extended family and an intangible connection to #19, which he now wears in tribute to his brother. Week after week, Oscar has brought his passion for the sport, strength as a teammate, and kindness as an individual to the field. For enduring a challenge that many couldn't face, for allowing teammates to grieve by his side, for smiling every day despite his pain, and for sharing the field with his father and coach in a courageous step towards healing for them both, I nominate Oscar Gallante for the Bob Gnoza award.
Hamilton – Wenham
Anthony Folger
It is with great pleasure that the Hamilton Wenham youth football program nominates Anthony Folger for the Bob Gnoza award.
This is Anthony's third year in our program and besides being our middle linebacker and signal caller on defense, he also plays slot receiver and almost every special teams position imaginable.  Anthony is the type of kid who truly leads by example.  He is usually the first one to practice and the last one to leave and even as an eighth grader, he's not above any task to help his teammates or the program.  If that means pads and equipment need to be carried out to the practice field, he's more than happy to do it and to show the younger players some humility in leadership.
This ethic extends off the field and whether he's working at the local food pantry to help stock shelves or volunteering to pack relief supplies for the people of Haiti, he approaches every task with diligence and humility.  In addition to being active in our community, Anthony is also a high honors student and multi sport athlete.
Although not our biggest or most talented player, Anthony's leadership qualities and work ethic have made him one of the unquestioned leaders of our team and an outstanding example for younger players in our program.
Anthony comes from a big, supportive family that includes three sisters, one of whom is his twin. At the age of two, Anthony underwent heart surgery to repair a defective valve. With the love and support of his family, he was able to work through that challenge and it seems like he's been working every day since for the betterment of his family, his community, his team, and himself.
We're proud to nominate Anthony for this award, and believe he is exactly the type of young man that Bob would have loved to coach.
Thanks for your consideration.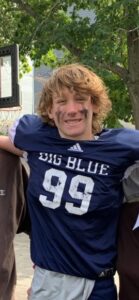 Swampscott
Doyle Delano
Blue Youth Football would like to nominate Doyle Delano for the 2022 Bob Gnoza award.  Through hard work and dedication Doyle has become one of the respected leaders of our A Team.  Doyle began his Youth Football career in 2021, as a7th Grader on the A Team that relied heavily on 7th graders, due to the low number of  of8th Graders.   Doyle was always  a tall and lanky kid, and I repeatedly tried to get his parents to sign him up.  Finally, they relented,  but after the first few practices and games, I was unsure if he had the physical attributes to become a successful youth football player.  Doyle would wince when making a tackle, making the coaches nervous.  He had a decent 2021 season but was not one of our dominant players, and the  coaches were unsure where he would fit in on offense or defense.  In the off season, Doyle worked hard, training for football and hitting the weight room.  When the 2022 season came around, we coaches were pleasantly surprised to see how he had improved physically, and were even more pleased  with his attitude and ability to learn plays and understand the game.  Offensively, because Doyle knew every play relatively well, we had him at tight end, wide receiver, and when we lost our 4 back, Doyle stepped up and never looked back.  He became a workhorse and won the spot.  On defense, it was the same story.  We had him at defensive end, outside linebacker, but when we lost one of our middle linebackers, he was put there at the last minute and won the spot.  When we needed a punter, it was Doyle.  When we lost our placekicker, it became Doyle.  It is remarkable to see a timid 7th grade kid become such an important part of the A Team, not only as a player, but as a leader.  I feel that Doyle has learned so much about the sport of football, so quickly. Knowing many different positions, he naturally was able to pass that knowledge on to his teammates.  Doyle is always there to coach up his teammates  and give them pointers and review their responsibilities.  His teammates listen to him and  follow hisleadership, as he has proven that he understands the game,  he executes and delivers, play after play, game after game.  Doyle's parents are both police officers in Swampscott, instilling him with many of the Gnoza Award attributes.  Additionally, he is  a very successful student in the Swampscott Middle School, consistently making the honor roll. For many years, Doyle has volunteered for Toys for Local Children and participates in the Swampscott Police Department Holiday Parade.  He cares about his community, as demonstrated by his commitment to shoveling out his elderly neighbors during the winter.  It has been a pleasure to coach Doyle over the past 2 years; welook forward to watching Doyle in the High School football program in the years to come!
Gloucester
Henry Snell
The Gloucester Youth Fishermen are proud to recognize Henry Snell as our 2022 Bob Gnoza Award nominee. Henry is an eighth grader, who came out for football for the first time this season. He asked if I had a moment to talk with him and his son, Henry. Mr. Snell informed me that Henry was adopted, had been through multiple foster homes, and had some severe behavioral issues. He told me that he and his wife loved Henry very much but were frustrated by his behavior. Mr. Snell explained that Henry had been in counseling for quite some time, with little progress being made. They had always been reluctant to allow Henry to play team sports because of his disruptive behavior but were hoping that football may do him some good.
Throughout the first couple of weeks, Henry did not finish a conditioning drill, using any excuse he could think of to sit out early. He talked back when coaches encouraged him and had a negative and defeatist attitude. Gradually, Henry began to develop self-confidence and a desire to improve himself as a player, teammate, and person. Through hard work and dedication, Henry lost over 30 pounds during the season and contributed to his team's success from his defensive tackle position. He worked a part-time job at Market Basket while focusing on his schoolwork and football. He developed a respect for his teammates and coaches that did not exist at all when he joined the program. His attitude towards school improved exponentially and his parents were amazed at the difference in his behavior.
As coaches, we learn early on that wins and losses provide fleeting memories, and very few even remember who won the championship the year prior, but the memories from making a positive difference in a player's life will last much longer. Henry embodies what we hope our young men learn from their football experience.
Manchester Essex
Conrad Garfield
I am writing to nominate Conrad Garfield for the Bob Gnoza Award.
Conrad Garfield is the heart and soul of the Manchester Essex football team.  He is a young man that has battled adversity in life and uses football to channel life's obstacles. Anyone that has coached against Conrad knows him. He is a dominant linebacker that plays with passion and never takes a play off. He is a positive, great role model for the younger players, and embodies what a strong work ethic should look like.
Conrad has played for the Junior Hornets for the past four years and has truly grown into a model teammate and player, currently serving as a two-year captain.  Conrad has been our Mike LB for the past two seasons and calls our defensive plays.  He routinely leads us in tackles each week.  He delivers perfect form tackling and has had some of the hardest youth football hits we have ever seen from a JR Hornet.  His ability to read and react separate him from his peers.  His dedication to his craft has made him the player he is today.
Conrad is the type of young man that radiates with positivity and passion for the sport. He is a supportive teammate and great friend.  He has a strong worth ethic that is contagious to those around him.  In the face of adversity, Conrad continues to be brave and persevere.  He has faced difficult situations in his life, and he continues to take care of those around him on and off the field.  Conrad is a humble, kind, hardworking young man, and is most deserving of this award this year.